Innovation
The Elysées concept is the new image of ALAIN AFFLELOU in France and abroad. The Afflelou PARIS spirit, based on the eyewear specialist's iconic story and expertise, is staged in every store.
Eyewear staging
An impressive cascade of eyewear and screens with the latest adverts invite customers to discover the entire store. Once inside, the customer has a comprehensive view of the different areas of the store: optics for women, men and kids, sunglasses and contact lenses.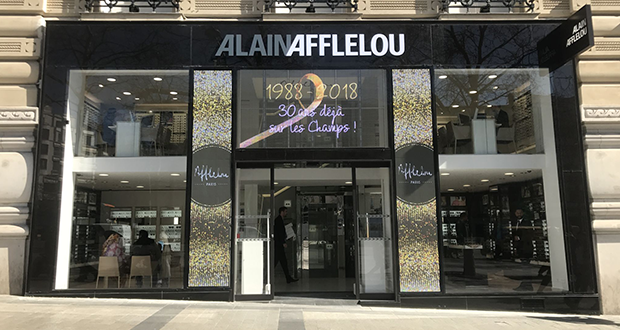 OPTICAL AREA: THE OPTICIAN'S EXPERTISE
The optical section offers contrasting light tones of white, grey and gold creating a soft, clean, and bright ambiance. Scattered light is used for the eyewear displays in harmony with the sun section concept. Eyewear displays alternate with new premium merchandising, making it easier to organise the product line and enhance displays, thus catching the customer's eye while highlighting the products. Thanks to the ergonomic and functional sales tables the optician has everything at hand when advising customers and showing frames.
SUNGLASSES AREA: FASHION EXPERT
This area enjoys a unique sunny atmosphere starring warm browns and gold. The showroom with its play of lights and backlighting enhances the glass tones. A shining central path naturally directs customers to the products. A contrasting floor and high central tables favour friendly conversations with the optician.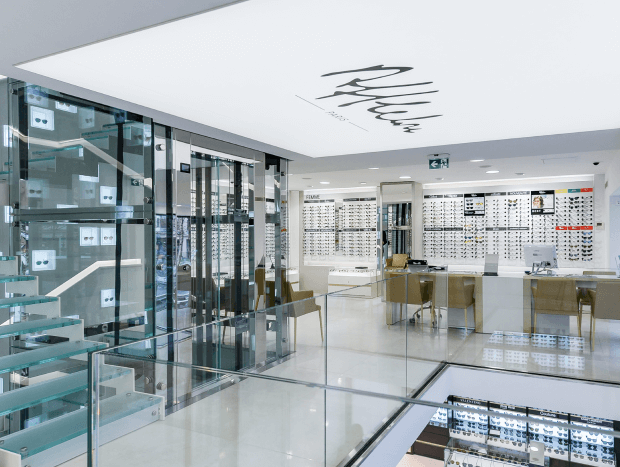 KIDS CONCEPT: ATTRACTIVE EXPERIENCE
The children's area uses appealing graphic codes and colours turning the merchandising into a fun experience. Frame displays are organised by age, each age group identified by a different colour. Frames located according on the height of children.
CONTACT LENSES: EXTENSIVE OFFER
Customers looking for contact lenses will find them easily thanks to a clear signage and a central location at the entrance to the store where the contact lens display units are located. Merchandising is organised like a discovery itinerary through different categories of products.

Change your style and activity without changing your glasses? It's possible with MAGIC!
Ultra-light and trendy, MAGIC is a true jewel of modernity.
Thanks to its magnetic clips, with a simple gesture, it adapts to all your activities and desires! It's MAGIC!
Available for men, women and even kids, the MAGIC frames include blue light filtering lenses, with or without corrective lenses
You can choose your MAGIC frame and your magnetic clips from a large selection.
– Solar or polarized clips, graduated or mirrored sun protection
– Night vision clips, with anti-reflection and anti-glare technology, for optimal night driving
– Other on-trend clips

FLEXIBLE AND UNBREAKABLE GLASSES* FOR KIDS
The new REFORM collection is composed of fully flexible glasses that perfectly adapts to the lifestyle of your little ones.
The main features of this lightweight and shock resistant glasses are:
– A flexible bridge, shape-memory
– Adjustable temples
All of this guarantees excellent stability and optimum adjustment for every little face.
The collection is made up of 18 references covering all ages from toddler to middle school.
*under normal conditions of use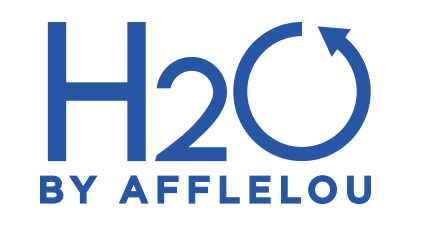 OUR COMMITMENT FOR ENVIRONMENT PRESERVATION
Innovating to help preserve the environment is what we envisioned with H2O BY AFFLELOU, our high quality, light and eco-friendly sunglasses collection. Those frames are made with plastic bottles recycled from oceans and come with biodegradable lenses. Its case is also made with recycled materials.
H2O model is available in 3 colours.
The recycling process for water bottles is certified by Global Recycled Standard (GRS) 4.0.
Creative commercial offers

Our best-seller since 1999. Tchin Tchin means AN EXTRA PAIR OF GLASSES FOR €1 MORE, EVEN WITH PROGRESSIVE LENSES!
Far more than just a great benefit, Tchin Tchin offers spectacle wearers the opportunity to get several pairs. Tchin Tchin fulfils every need and every desire! It's easy! Just:
1. Choose your 1st frame (+ lenses) from the most famous international fashion brands or from the AFFLELOU collections, for a total cost of at least €149 *.
2. For €1* extra, choose your 2nd frame from the AFFLELOU collection (adult and junior maximum price €99, children's €89) or the AFFLELOU sun range (maximum €59).
*€ prices inc. tax, applicable to France

With Nextyear, get your glasses now and pay in 1 year, or in 12 convenient monthly settlements, without extra costs.
Nextyear grants you the possibility to purchase something you really wish:
This offer is valid for the following optical products:
– Frames, sunglasses and/or corrective lenses,
– Contact lenses and care.
Exclusive offer from ALAIN AFFLELOU.

EVERYTHING CHANGES IN A CLIP WITH MAGIC!
At any time during the day, instantly make your glasses a unique accessory. For €119*, choose your MAGIC frame and 2 magnetic clips from a large selection.
Different frames and clips for truly personalised style:
– MAGIC frames, including blue light filtering lenses, with or without corrective lenses
– Solar or polarised clips, graduated or mirrored sun protection
– Night vision clips, with anti-reflection and anti-glare technology, for optimal night driving
– Other on-trend clips
*€ prices inc. tax, applicable to France
Multimedia presence
Store
windows